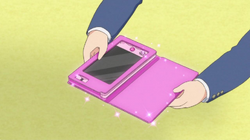 The Fairilu Pad (フェアリルパッド Fearirupaddo?) is an item appears in the Rilu Rilu Fairilu anime series.
Overview
The Fairilu Pad has the appearance of a normal tablet computer, often seen with a case and a strap in the anime.
The functions of the item are also basically the same as a normal tablet computer. Users can contact others with it. It is capable of taking photos too. Other uses such as studying are also available. One of the magical functions is that users can have real-time interaction with Fairilus in Little Fairilu.
In Rilu Rilu Fairilu: The Fairies' Door, Mr. Bokkuri gave the Fairilu Pads to his students, Lip, Sumire, Himawari and Rose, when they were on a field trip in the Human World. Other Fairilus are also shown that they obtain one of the pads. In one of the episodes, Eri found Lip's Fairilu Pad and played with it, which enabled her to interact with Fairilus.
Toy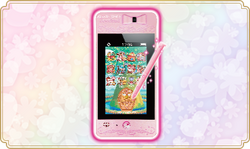 A toy based on the Fairilu Pad was released on October 27, 2016. It is a handheld toy device which its design is based on a tablet computer. It consists an LED touchscreen, a diamond-shaped speaker, a jewel-like button and a ribbon-shaped front camera at the front; another camera lens and a infrared port in the back. It includes a pen for the touchscreen. It also provides a case.
The Fairilu Pad features a variety of pre-loaded app of recreational activities for casual play. Users can take pictures, send email to other Fairilu Pad devices, and draw artwork. There are also a variety of minigames featuring Fairilu characters.
The units are sold for around a retail price of ¥13,000.
Video
Trivia
The device's design borrows the look from its predecessor, the Jewel Pad. In fact, the word "Jewelpad" is engraved on the top corner of the device.