The Picturebook of Fairilu (フェアリル図鑑 Feariru Zukan?) is a book containing information about the world of Fairilus.
This item appears in Rilu Rilu Fairilu: The Fairies' Door. It was written and illustrated by Lilas Hanamura and one of the copies is currently under the ownership of Nozomu Hanamura. He often indexes the book for a full collection of Fairilu types and studying the lore of the Fairilu world.
Merchandise
A recreational book based on the Fairilu Picturebook was released on April 1, 2016. The book contains pictures of Fairilu characters as well as profiles. There are also a few interactable pages such as door-like flip strips revealing pictures behind them. In addition to profile information, the book contains seal album pages for collecting Fairilu card seals. The book also comes with a sticker set with the purchase. The retail price is ¥2,500.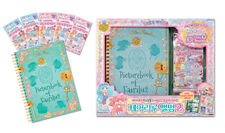 A second volume of the Picturebook was sold in Korea. The book contains profiles of characters debuting in the second season, as well as the mention of some settings appeared in the anime, such as buddy. It also has album pages like the first volume. As a set, 5 packets of volume 5 and 6 of Fairilu Seal Collection are included along with the Picturebook. The retail price is ₩20000.[1]
Videos
Reference